Guitar Pedals
In Stock
300+ Presets -- Including exclusive rock star presets with unrivaled tone32 Amp Models, 16 Cab Models -- Mix and Match amps and cabs to create your own unique sound16 Effects -- Built-in in set of effects that are tweaked to perfectionChromatic Tuner -- The built-in tuner can be set to mute for those on-stage tunings between songs,CD/MP3 Jack -- Ja..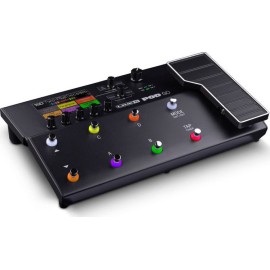 In Stock
Tech SpecsPedal Type:Multi-FX PedalboardAnalog/Digital:DigitalPresets:256 (2 setlists with 32 banks x 4 presetsNumber of Effects:275+ effects (Helix & Legacy combined), Up to 10 simultaneous FX (6 fixed, 4 flexible)Effects Types:Mandarin Rocker Drive, Ratatouille Distortion, Fuzz, Tremolo, Chorus, Vibrato, Rotary, Retro Reel Delay, Reverb, Modu..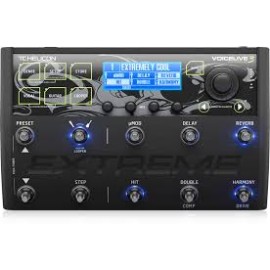 Out of Stock
With four times the memory of its predecessor, the VoiceLive 3 Extreme takes TC-Helicon's versatile all-in-one performance tool to an entirely new level. When you want to shape and enhance your vocals with great-sounding onboard effects, create natural-sounding vocal harmonies, and process your guitar with effects and amp models based on TC Electro..
Showing 1 to 3 of 3 (1 Pages)